Jan Harlan was the executive producer on many of the landmark films made by his brother-in-law, the iconic American director, Stanley Kubrick. Together, they fashioned such powerful movies as Barry Lyndon, The Shining, with Jack Nicholson, Full Metal Jacket depicting the Tet offensive during the Vietnam War, as well as Eyes Wide Shut (Kubrick's last movie), starring Nicole Kidman and Tom Cruise.

In more recent times, Jan has toured the world lecturing to film students about movie-making, often on a limited budget, but also describing the techniques of directors, with much bigger backing, in grabbing the attention of viewers in the first minutes of a movie. At the same time, he often attends the opening of an exhibition that he curated on the life and work of Stanley Kubrick and which has been going round the world for the past decade, with the latest unveiling in Mexico just a few weeks before he came to give his captivating talk in Wootton on March 27th.
At the university in Monterey, in Mexico, Jan had lectured to an audience of 850, but – although the audience in Wootton was relatively modest – he outlined the same themes. With some striking illustrations, he showed us how short films with limited finances can be extremely powerful, often combining humour with deep poignancy – and, in the process, reflecting great skill on the part of the director.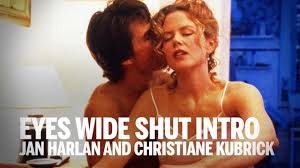 One film depicted patrolling armed soldiers trying to listen to the World Cup Final between Italy and Brazil on a small transistor radio, with the commentary breaking up as the weak signal came and went. Suddenly, they are confronted by gunmen on the other side of a security fence and each points guns at the other, whilst all four men are still trying to listen to the commentary. In the final scene, they all shoot each other dead whilst the match reaches a thrilling climax on the radio – with the implication that a soccer game and gun-fights are similar in many ways and yet soccer can be a great leveller, with opposing gunmen all taking the same interest in the result.
Another short film used clever techniques to highlight the closure of all the railways in Paraguay as a result of an apparent conspiracy by oil and vehicle companies. Using only a sound-track of trains and the bustle of people in a station, the young film-maker had roamed over tracks covered with weeds and also shot decaying stations, which had once been thriving and at the heart of the nation's transport system. The juxtaposition of the ruined track and buildings with the excitement and energy of travellers in the past made for a very powerful statement, again created on a tiny budget.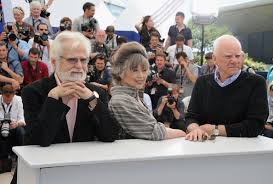 Another (deeply melancholy) short-film showed a young couple in bed and quite clearly in love. They stare into each other's eyes and are thrilled to be with one other – but then they get dressed and it is revealed that the man is Jewish and wears a skull-cap, whilst the girl wears head-dress and is an Arab. It seems that – although they are totally entranced with each another – their future together is precarious or even impossible. Few words are spoken and, at the end, the girl says: "I'll go first", implying that they should never be seen together outside. Made in just one small room and yet it was extremely poignant.
For bigger movies, Jan showed us how scenes shot around the world could be stitched together to create a single narrative. In Eyes Wide Shut, a second unit shot street-scenes on Manhattan and these were then spliced together with Tom Cruise seemingly driving in New York, although he was actually shot in Pinewood Studios in front on a back-projection of New York.
Jan also highlighted the importance of an attention-grabbing opening, with the start of Kubrick's film, Lolita, which simply depicts a man's hand painting the toe-nails of a young girl to the accompaniment of a slow waltz. He also showed us the opening of the TV drama, Bleak House, in which the hundreds of words used by Charles Dickens in the novel are compressed into a swinging clock-pendulum and the haunted eyes of Esther as she's told it would have been better if she'd never been born.

Jan completed his marvellous talk with a short-film featuring stars Martin Freeman, Tom Hollander and Gina McKee. It showed a psychiatrist interviewing a prisoner in jail who claims he is God. To make his point, he says he can make Belgium disappear (which later seems to happen when the psychiatrist looks at a map). The prisoner says he is all-powerful and, again to prove it, transforms himself into the psychiatrist – who then becomes the prisoner struggling in a strait-jacket. It prompted that rare event in a cinema – a round of applause in Wootton Village Hall.
Jan's talk required considerable equipment and intricate cabling – and special thanks to Robin Wheeler, from the Talks Team, for handling it all so capably. Over 100 people heard Jan speak and we were extremely grateful that he had made the journey from his home in Hertfordshire where he lives close to his sister, Christiane – Stanley Kubrick's wife, who made such a striking appearance in his 1957 film, Path of Glory
"This was my first visit to the Wootton Talks and it was sensational. I couldn't quite believe that somebody of Jan's background and pedigree was sitting in front of me, effortlessly talking about movies and illustrating his points with some marvellous short films, as well as giving an insight into the tricks of the trade. It was so compelling that the time just flew by. I would urge anybody to go along to future talks. I can't imagine a more enlightening and fulfilling evening - Robert Campbell, Didcot