John Lloyd & John Mitchinson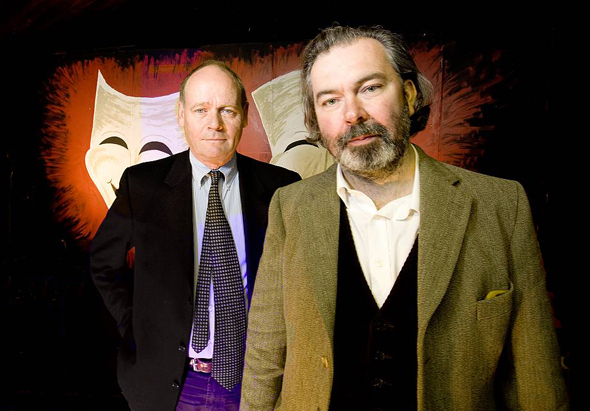 Can the village hall have ever seen such an evening? Crammed to the rafters with a record turnout of over a hundred people (and nobody turned away), the hall reverberated with laughter for nearly two hours as John Lloyd and John Mitchinson recounted anecdotes and threw out jewels of wit to a truly captivated audience. The Two Johns have become a legendary double-act. John Lloyd invented QI - the BBC programme which has become a national institution in its six series of far - and John Mitchinson is its director of research, who leads a small team unearthing remarkable facts which often give the lie to received wisdom. Each week, the first broadcast of the show on BBC One, plus two repeats, bring in nine million viewers, which is pretty sensational in this day and age.

The evening was pepperd with the fruits of their research, such as it taking 21 years after the invention of basket-ball before somebody suggested cutting off the bottom of the basket so the ball would drop through each time somebody scored, rather than having a fetch a ladder to retrieve it. Or the tardigrade, a tiny insect which can roll itself into a small ball and remain dormant for over a century before a single droplet of water can revive it. Needless to say, the QI books featuring such facts have sold in their hundreds of thousands, appealing to a general curiosity.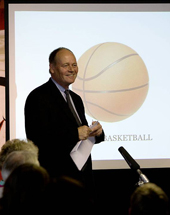 John Lloyd was extraordinarily modest about his record as a comedy producer which must be second to none, with his TV credits including Blackadder, Not the Nine O'clock News, Spitting Image and, of course, QI. He has had an input into the development of Mr Bean and To the Manor Born. On Radio, he created The News Quiz ands Quote Unquote, as well as writing some series of A Hitchhiker's Guide to the Galaxy with the late, great Douglas Adams, his best friend at Cambridge. A second series of The Museum of Curiosity, which John helped develop and now fronts, is about to start a second series of Radio 4 in early May.

That might be enough to cover a career of twelve people, but John also spent ten years writing and directing television commercials, including Barclaycard with Rowan Atkinson, Castlemaine XXXX lager, Worthington Bitter with Harry Enfield and Red Rock Cider, which was a spoof of Police Squad (which, in itself, was a spoof starring Leslie Nielsen). In one memorable sequence in a commercial, Leslie says: "Hey, you over there in the shadows!" before a man steps forward and is revealed to be Hank Mavin, leader guitarist with the Shadows.


John Mitchinson was equally witty and magisterial in his observations on how a certain way of thinking is required for the QI appraoch to knowledge - and how established wisdom (so often seen as truth) is, in fact, completely inaccurate. One example is that everybody would claim that the sky is blue but, in reality, it is violet - and yet the human brain can only interpret it as blue. Similarly, there are a whole range of areas about which so little is known - for instance, where ideas come from and how the brain develops them. The QI researchers are currently unearthing information on knowledge featuring the the letter Q - which will feature in the next series, due to be broadcast in the autumn.

The Two Johns signed copies of books bought on the night, as well as those brought along by people who might have been waiting ages to meet their heroes. Both men were utterly charming and chatted with everybody and, indeed, they were some of the last to leave after the church clock had struck eleven. The take on the door was a record £640 and that, plus extras like a percentage of the books sold, gave a profit of just under £700 - meaning that we have just about reached our informal target of £3,000, with two more talks still to come before the summer break.
A packed house for what promised to be a very entertaining evening – and it didn't fail to deliver! The Two Johns entertained us with comic moments from the past, insights into how their now-famous work had come about (and how it nearly didn't) and how the QI elves carry out of all the research that makes Stephen Fry look like the most knowledgeable man in Britain (or, as they described him, "with a brain the size of Norwich. A great evening again – thanks to all those that made it happen - Susie Smith, Wootton


What an enjoyable evening! We laughed solidly for about two hours, listening to a seemingly limitless supply of amusing stories from the Two Johns. But we leaned some fascinating facts along with the laughter: why the sea isn't really blue; the phenomenon of "morphic resonance" (for example, how sheep have somehow passed around the world to each other the skill of doing forward rolls to get across cattle-grids) ; and that there's no word for "interesting" in Latin. I confess that I have never actually watched QI, but I will now! - Fiona Mills, Wootton

All Talks Start
At 7:30pm

Tickets Cost
£8 For
Everybody

Max Capacity
100

Postcode
OX20 1DZ





Local Links

The Killingworth Castle

Adrian Arbib Photography

Robin Laurance Photography

Ashmolean Museum

The Bodleian Library

Woodstock U3A - University Of The Third Age

Woodstock Music Society

Woodstock Literature Society