For years, the annual Women's Institute calendar had been the paragon of convention - but then eleven women aged between 45 and 65 from the Yorkshire Dales blew all that apart in 1999 when they posed naked to highlight traditional WI crafts. The calendar became a global sensation and sold in its tens of thousands to raise money for leukaemia research. It was the brainchild of Tricia Stewart, who told a packed hall on March 15th how the women of the Rylstone and District WI, near Skipton, went from developing a novel idea to appearances on prime-time US television shows and the release of a major film chronicling their project, as well as stage productions throughout Europe.

Following the launch, there was global interest. The story featured in the national press and the women modelled at the Savoy during London Fashion Week and took calendars to Buckingham Palace for the Queen and the Queen Mother, whilst the Oldie magazine awarded them "The Oldie Exposure of the Year" and they were made Women of the Year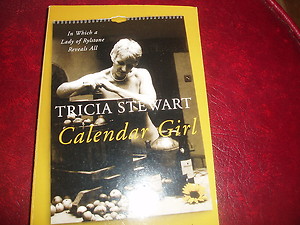 The calendar sold 88,000 copies in the U.K alone during 1999. People admired their courage and the calendar proved inspirational, changing the image of the WI forever. A year later, the calendar came out in the United States, selling a further 240.000 copies on the back of two promotional tours when the women were mobbed in New York
The film Calendar Girls, based on the story of the Alternative WI Calendar, was premiered in London in 2003, with Helen Mirren playing the character modelled on Tricia. With brilliant comedic timing, Tricia recounted how hundreds of people in the Dales applied to be extras - including several appearing in a raft of scenes - and how all the famous actresses in the film developed their characters. There followed appearances for the women on the red carpet at premieres around the world and even a photo-shoot on the beach at Cannes. They met Prince Charles at a country show (when word seeped out that his favourite was Miss July) and they also appeared on the Royal Variety Show.
The following year, Tricia's book, The Calendar Girls Story, was published and has been translated into many languages, including Japanese. The stage version of Calendar Girls opened in 2009 in the West End to full houses, with Lynda Bellingham and Anita Dobson playing Tricia's character, and there have also been a whole series of amateur versions. The idea had first come to Tricia after John Baker, the husband of a friend, died from the leukaemia in July 1998 at the age of 54 and she was determined to pursue the project in his memory. Initially, the aim was to raise £5,000 for leukaemia research and to have a calendar dedicated to John's memory. Its effect was expected to last three weeks but - over thirteen years on - the charity has raised more than £4 million.
Scores of other groups have subsequently copied the idea of a semi-naked calendar - from firemen to farmers' wives - but none has ever matched the impact of the original from the Dales. Marlene Fisher's back-drop featured a large sunflower (the emblem of Tricia's project), with enlarged pictures of the women from the first calendar on the petals.
After her talk in Wootton, Tricia sold over 40 copies of the 2013 calendar, featuring photos of some of the original women down the years - and the last one to be published. A collection afterwards also raised £310 for Tricia's charity.
"The evening was a combination of a powerful original story and Tricia's supreme comedic delivery - and it was an absolute delight from start to finish. It was remarkable to hear how a group of women from the Dales, more used to humble WI meetings, took a simple idea and transformed it into a global phenomenon. The concept touched a nerve everywhere and it is truly inspiring that they have raised so much money for leukaemia research - Martyn Holmes, Bicester