For the fourth birthday of the Talks, our guest was David Nobbs,, who hit the perfect celebratory note on October 5th with his hilarious anecdotes of writing for some of great British comedians and comedy-actors over nearly half a century. David is perhaps most renowned for creating The Fall and Rise of Reginald Perrin, starring Leonard Rossiter, which ran for several series on the BBC and has entered the pantheon of iconic television programmes, with lines like Reggie's constant excuses for being late at the office - "Badger ate the junction-box at New Malden" - as well as the mantra-like "I didn't get where I am today", which has entered the lexicon of great comedic phrases.

However, he has also written for comedians like Les Dawson, Kenneth Williams, The Two Ronnies and Frankie Howerd, although he admitted it was hard work creating jokes for Frankie which always had to include his trademark "Oohs and aahs" and "no please, titter not" in the script. In fact, David recalled once rehearsing some gags he'd written for him whilst walking in a park in Barnet when suspicious policemen stopped him and asked what he was doing - because a man had just escaped from a local mental hospital. Perhaps his fondest memories were of working with Les Dawson, who was game for anything - even immersing himself in water playing the man who was the world's only underwater bagpiper. Whilst comedians like Tommy Cooper were very closed, he found Les Dawson a delight and he would sit with the crew and script-writers between takes, laughing at other people's jokes and inquiring about their families.

David has also written nineteen novels and, quite often, the television series emerged from those books, as was the case with Reggie Perrin and one of his other creations, Henry Pratt. However, other work was created purely for television, like Stalag Luft - set in a prisoner of war camp where the German guards wanted to join the British servicemen in escaping and heading for Britain. But David admitted that whilst the cast included Geoffrey Palmer, Stephen Fry and Nicholas Lyndhurst, the shows were quite laboured - partly the result of the slow pace of direction. He also conceded that the Henry Pratt novels had not made an entirely successful switch to television, although his comedy-drama series, A Bit of a Do (based on a succession of social gatherings he'd attended, including a dentists' dinner-dance) worked out far more along the lines he had intended when writing them.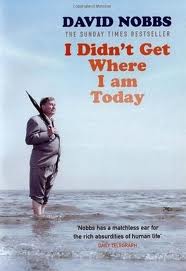 But it was the series with Reggie Perrin which cemented his reputation and, although he had imagined Ronnie Barker playing the lead role, the producer had wanted Leonard Rossiter. It proved an inspired casting in the three series which, as David told us, was partly an examination of identity as Reggie fakes his own death to escape his mundane office life - and the original novels had been much darker. In one episode, a reckless Reggie goes walkabout in a safari park and the filming took place at Longleat, in Wiltshire, but the lions near Reggie were, in fact, men from the Props Department at the BBC and the public were suitably shocked when the director shouted "Cut" and the lions stood up and had a cigarette-break. David is as productive as ever and his next novel, called The Fall and Rise of Gordon Coppinger (with echoes of Reggie Perrin) was due to be published in November. He is also mulling over the possible plot-line of a married couple who each change sex, get divorced and then meet again with different genders - and fall in love all over again. Certainly, everyday life presents him with endless comedic ideas and that abundance will ensure he never stops writing.
David and his wife, Susan, had come all the way from Harrogate for the evening and we are extremely grateful for their support for the Talks project. Over 130 people filled the hall and many ate birthday cakes baked by Ann Day - which depicted the village hall - and others made by Tony and Marlene Fisher, which each had four candles and also some handles in forks, made from icing, as an reference to the classic sketch by the Two Ronnies. For our birthday, Robin Laurance, the photographer and one our previous speakers, also took pictures of the Talks Team, as well as some past speakers who were in the hall, in addition to the cakes and celebratory champagne. These have now been posted on the Talks site - to view them, click on the folder marked An Experience on the Home Page and scroll down.
"The perfect antidote to a wet October evening was listening for over an hour to a string of hilarious anecdotes from the world of comedy. Writing humour is clearly a serious business, with people's individual reaction to a joke so different, but David has clearly had a wonderful career making millions of people laugh - although he was candid in admitting that not all the television programmes had worked as well as he had hoped. But to be be in the company of a man who has given so much comedic pleasure was a joy indeed - Mike Sumner, London