The Boris Rankov Talk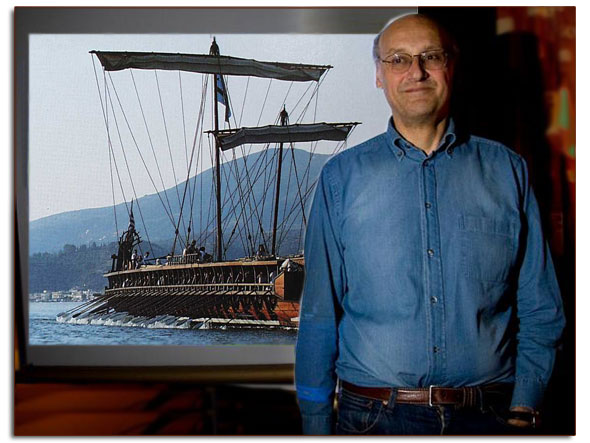 Despite freezing temperatures outside, Boris Rankov, professor of ancient history and Wootton resident, lifted everybody's spirits with a magisterial talk on Friday, December 5th about the construction and trials of a Greek trireme, a wooden ancient warship, in the warm and deep-blue waters of the Aegean Sea. It was a fascinating insight into the vision of the academics and naval architects who persevered with the project over several years, with the 45-tonne ship costing £750,000 to build before it took part in a series of trials with 170 rowers from around the world.

The trireme, called Olympias, was commissioned into the Greek Navy in 1987 and there are now plans to possibly ship it to New York for a Hellenic Week and even dreams of an appearance at the London Olympics in 2012.

A measure of the evening's success was that questions for Boris just kept coming from an audience eager to know more and many of us were left envious of those in the crew - both men and women - who had taken part in this landmark venture.
I never expected a talk on the naval architecture of ancient Greece to make for such an interesting evening. But Boris gave a fascinating description of the Trireme Project, describing first how the boat was built without modern equipment, and with nothing to go on but the pictures on Greek vases and the extrapolated dimensions of ancient shipyards. Then came the problem of synchronising the efforts of all the sweating oarsmen and women, so that the ship no longer behaved like a three-layered centipede on its back – oars waving in all directions – but a powerful warship moving purposefully through the water at seven knots. Boris's talk put the achievements of modern life into a new perspective. The Greek food was also great, too! - Anna Shepherd

We watched some of the original trials in about 1992 with the trireme in Poros and Boris's talk brought back all the excitement of those times when we saw the Olympias being pulled through the water with such majesty. It was a very evocative talk and it was delivered with such infectious enthusiasm that it made a wonderful evening....the talks so far have all been so varied and yet so compelling in their own way - George and Sue Doucas.

All Talks Start
At 7:30pm

Tickets Cost
£8 For
Everybody

Max Capacity
100

Postcode
OX20 1DZ





Local Links

The Killingworth Castle

Adrian Arbib Photography

Robin Laurance Photography

Ashmolean Museum

The Bodleian Library

Woodstock U3A - University Of The Third Age

Woodstock Music Society

Woodstock Literature Society