Colin Dexter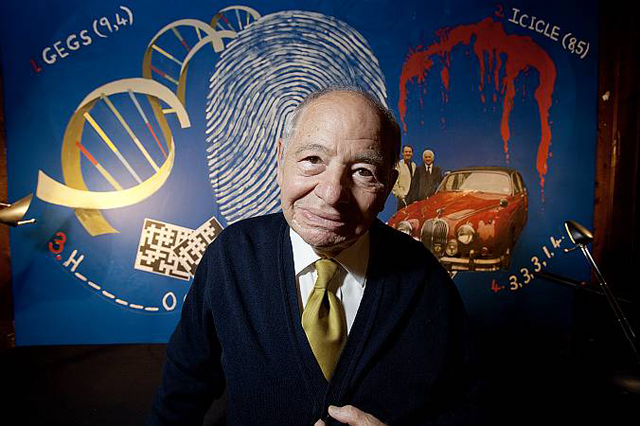 One of the most moving passages in Colin Dexter's captivating talk on June 4th was when he described how one exceptional teacher at his school in Stamford gave him the chance to borrow any book from his library. Colin chose a novel by Thomas Hardy and so he developed his love of words and stories, which was to culminate in his own contribution to the canon of English literature with the Inspector Morse novels.

Colin was to read all of Hardy's novels and - many years later - he returned one to the teacher who was then living in France. The teacher subsequenlty returned the book with his own name crossed out and replaced with Colin's and the whimsical message: "I never realised you were such a slow reader". As Colin pointed out, many people can identify at least one teacher who has alerted them to the joy of learning - and so changed their lives.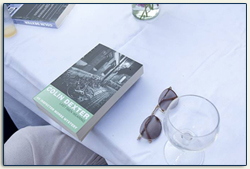 Colin's first foray into novel writing was during a wet family holiday in North Wales in 1972 when he began the draft of his first Inspector Morse book, which was to become Last Bus to Woodstock. He gave Morse many of his own passions, including classical music, English literature, cask ale and - in particular - crosswords. Indeed, he has published books on techniques for solving crosswords and this formed a significant part of Colin's talk.

During one passage, he wrote the letters of an anagram on a white- board and asked if anybody knew the answer. There was a deep silence, until the rector, Stephen Jones, rightly suggested from the back that the solution was "Mandy Rice-Davies", the Sixties call-girl involved with Christine Keeler in the Profumo Affair, who described her life as "one slow descent into respectability". Everybody was most impressed.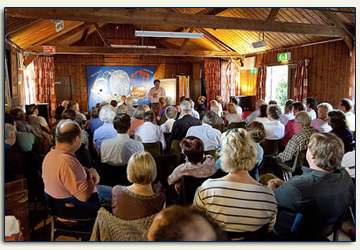 Colin had the delivery of the practised speaker, revelling in the longer pause in the knowledge that the punch-line to the story would be both unexpected and highly amusing - as when he gave a lift to a hitch- hiker, with long, flowing golden hair on the Woodstock Road in Oxford one summer in the late Sixties, only to discover it was a boy. With perfect self-deprecation, he also recalled the letter he received from one man on behalf of a literary society who began by saying that he had been fishing around for a speaker and, "in desperation," he had written to Colin to see if he would consider coming along to talk.

He also claimed he had crept into Cambridge after writing an essay for three hours on a single topic. One of the options was called simply: "County Boundaries". Colin had thought the question extremely difficult, but he recalled that a fellow student, a Liverpudlian, had thought it perfectly straightfoward - because he had simply written about the boundaries at county cricket grounds.

As usual, Marlene Fisher's back-drop was wonderful, depicting John Thaw and Kevin Whateley (who played Morse and Lewis), standing next to the iconic Jaguar, which became such an integral part of the 33 episodes of the television drama made between 1987 and 2001 - and which are still shown around the world. Marlene had also added four crossword clues of her own at each corner of the back-drop, some of which the audience managed to solve at the end of the evening.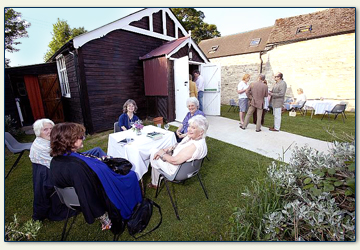 The proceeds from Colin's talk were £632, including a share of the £250 worth of books sold, giving a total of £10,015 after eighteen talks. The evening was also a landmark with the unveiling of the enlarged and super-bright new toilets, built with some of the money raised since October, 2008. The work was carried out by Andy Warner and his colleagues and the new facilities are unrecognisable from the old space and have created an extremely high bench-mark for all future work.





To view the evening in pictures please click here to go to Adrian Arbib's excellent gallery.
Colin Dexter gave a wonderful account of his background, some highly amusing quotes and incidents from his life, and picked up his enthusiasm for crosswords and his fascination for words in general. Plus, some interesting and revealing comments about the character of Morse. Those of us who have taken books from the school library, forged notes to get out of games-lessons, or smoked Woodbines behind the bike-sheds, were delighted with his candid recollections of similar misdemeanours.
A warm summer evening, a humorous and an informative talk delivered with perfect timing, an opportunity to meet Colin and each other afterwards. What more could we ask for? Perhaps, the assurance that he will come back again soon! Sidney Medavarci - Henley

All Talks Start
At 7:30pm

Tickets Cost
£8 For
Everybody

Max Capacity
100

Postcode
OX20 1DZ





Local Links

The Killingworth Castle

Adrian Arbib Photography

Robin Laurance Photography

Ashmolean Museum

The Bodleian Library

Woodstock U3A - University Of The Third Age

Woodstock Music Society

Woodstock Literature Society